Carry a notebook or iPad to improve your creativity
Here is an idea that will help you increase your ability to imagine or write especially visual scenes.
When you see something special, write down what you saw. Be descriptive. Use your creativity. Capture your feelings so later, a day, a week a year, you can re-create the feelings when you want to include it in your novel or short story.
One weekend John and I were traveling through the mountains of Virginia. We stopped at a spot where a dam backed up a stream, creating a beautiful, winding lake. The state had built a pavilion with tables for picnickers.
While we were having lunch, a breeze blew across the lake. The surface of the water suddenly turned into a sea of diamonds. Each small wave sparkled in the sunlight, giving the feeling of a diamond studded lake. Instead of just admiring the view, John wrote a scene about the thousands of glistening gems dancing on the water. At a later date he included it in one of his novels.
Sometimes being creative is simply observing nature or people. The key is to write it down.
Our minds are too forgetful of the little details that make something spectacular.
Some of my best thoughts come in the middle of the night. I learned long ago to get up and write them down or they would be gone in the morning.
When you see or hear something spectacular or unique, stop while you are still looking at it. Try to describe it in words. Write it down. Use creativity in your description. If you see a lovely sunset – the sky ablaze in purple and pink, or a white heron fanning its way over the blue water, write it down.
Interesting people descriptions can be added to your notebook. We were having dinner at a small restaurant off the Chesapeake Bay. Several young ladies walked in, giggling. The center girl was wearing a tall, silly hat with paper candles on top. It was her birthday! They were having so much fun, it gave us joy just watching. She too ended up as a character in one of John's books.
Creativity is a skill, which like any skill, can be improved with practice.
Some people may be more naturally talented, but with practice, anyone can improve their imagination and creativity. 
To write great fiction, we must become creative.
Try people watching to Grow your Creativity 
To help increase your imagination and creativity find a spot where you can watch people. Describe the stranger's body type, hair, eyes, face and any uniqueness you notice. Write what you see and how it makes you feel. You never know when you can use it to spice up a scene in your novel.
We have actually categorized the descriptions of things, places and people in a special book, we call our 'word book'
When we are looking for ideas, we pull out our 'Word Book'. This helps spark our imagination. The best ideas are magnetic, they attract other ideas.
Creative writing should be fun! Increasing your creativity should be fun!
Yes, there are rules and principles, but being creative – imaginative – should bring you joy. John and I can sit for hours brainstorming an idea. I make a suggestion, he adds to it or twists it differently. Then one of us says, 'what about this?', and we go on and on until the ideas seem to find an energy of their own.
Sometimes we create a completely new addition to the storyline, or a new personality.
   
  Make creativity a game.
Find someone or several people to make creativity a game.Use ideas from our website writingagreatbook.com to get started. Tease the idea, stretch it, and play with it until it becomes your own creation. Let each person in your group come up with a different idea.
When you have something unique, write it down. Then categorize it ,so you can find it later.
This is especially important if someone comes up with something humorous. Humor is one of the hardest things to write. It stretches the imagination beyond most writers. But when you see something, like a lady with a funny hat, write it down, and don't forget to include the humor aspect that caught your attention in the first place.
This can really be fun if you have several people trying to hash out an idea. It's amazing how often someone will say something funny or crack a joke. If you don't write it down, it's forgotten soon after the laughter dies down.
You may find you don't need the idea right now, but in a scene you write later you can put it to good use. Sometimes the idea is so unique, you want to create a special scene, or short story, just for the idea.
That is why you want to keep notes. Especially if you organize them, so they are readily available. Categorizing your ideas by topic, subject, or emotion.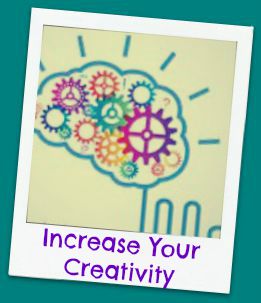 Experiment to increase your creativity
In our web-site, we have included a Writing Exercise section, to help ignite your creativity. For the exercise we explain a writing technique, give you tips and examples, and then ask you to create a scene using the idea. All the examples are from John's and my imagination. Writing this segment has helped us increase our creativity.
We ask you to create your own scenes in order to help you to expand your imagination. While you do this, you will gain new skills. The exercises don't ask you to write a book, just create a scene. Exercise your writing muscles. Increase your creativity. You may come up with a great idea for your novel in the process.
Its practice that improves our skills and yours
You can submit your scene to be voted on by your fellow writers, or you can discuss the monthly  technique in our forum. Our techniques on editing and revising may also be helpful. Seldom is a scene or page written the way you want it on the first try. Patience and persistence is needed.
Nothing is cast in stone until it is published. If you think of a new idea, go back to a spot where you can revise the old scene. Then revise it again. Don't agonize about getting it perfect the first time, or even the second or third time. As your ability and techniques increase, your writing will improve.
Who knows, you may write a New York Times best seller or the next box office success.
Think big, be creative, and let your imagination grow until it soars! Check out our article on Engaging your readers
For more ideas about creativity see: https://writetodone.com/boost-your-creativity/
Let us know how you are doing.
Together we can do it.
Happy Writing,
John & Patty
copyright: patty@writingagreatbook 2017  all rights reserved
If you enjoyed this article, please share it with your friends.